Hi everyone,
"
Ask Jeeves
" was the name of a British search engine.
I've known about it when a French guy was hired in my company. He just arrived from England (where he was working) and his favorite password was "AskJeeves".
The name of the search engine is now
Ask
.
-> Ask.com UK
-> Ask.com Fr
Ask.com intl - As often now, the web site detects your system language and starts the appropriate version of their site.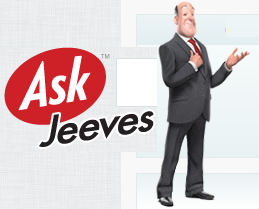 In the British English casual language, Jeeves is the typical name of the butler
, the guy you can ask anything and who will give you the answer.
Ask.com is a typical British search engine.
According to Wikipedia,
Ask.com was originally known as Ask Jeeves, "Jeeves" being the name of a "gentleman's personal gentleman", or valet, fetching answers to any question asked. The character was based on Bertie Wooster's valet Jeeves, in the fictional works of P. G. Wodehouse.

The original idea behind Ask Jeeves was to allow users to get answers to questions posed in everyday, natural language, as well by as traditional keyword searching. The current Ask.com still supports this, with added support for math, dictionary, and conversion questions.
_________________
Please feel free to point out big mistakes in my messages in a foreign language. Thanks to your remarks, I'll be able to improve my level.
PS: Pls note that I chose American English for my vocabulary, grammar, spelling, culture, etc.  



Messages

: 35676


Lieu

: Ermont & Eaubonne café-langues (Val d'Oise)


Langues

: Français (Langue maternelle), US-En, De, It, Ru




---
Permission de ce forum:
Vous
ne pouvez pas
répondre aux sujets dans ce forum