Tout le monde recherche le bonheur car c'est bien simple "L'important c'est d'être heureux"
Je vous conseille donc ce livre formidable à lire, à relire et à partager
vivre : La psychologie du bonheur de Mihaly Csikszentmihalyi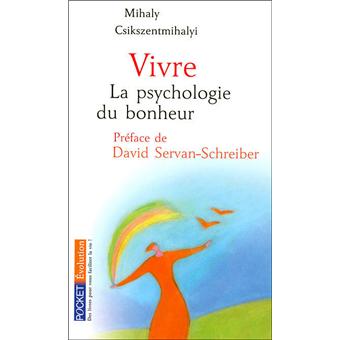 Mihaly Csikszentmihalyi apporte une réponse à la question du bonheur. Des années d'étude l'ont conduit à une conclusion essentielle : c'est en s'impliquant pleinement dans chaque instant que l'on accède à l'harmonie et à la joie. Pour y parvenir, il nous livre les secrets d'un nouvel art de vivre.

_________________
Merci de me faire part des grosses fautes dans mes messages en langue étrangère. Grâce à vos remarques, je pourrai m'améliorer
Admin




Messages

: 14058


Lieu

: Calais


Langues

: Français (Langue maternelle), Gb, De, It, Es



Of course you can read that book in English for the author is American
https://www.amazon.co.uk/Flow-Psychology-Happiness-Classic-Achieve/dp/0712657592
What really makes people glad to be alive? What are the inner experiences that make life worthwhile? For more than two decades Mihaly Csikszentmihalyi studied those states in which people report feelings of concentration and deep enjoyment. His studies revealed that what makes experience genuinely satisfying is 'flow' - a state of concentration so focused that it amounts to complete absorption in an activity and results in the achievement of a perfect state of happiness.

_________________
Merci de me faire part des grosses fautes dans mes messages en langue étrangère. Grâce à vos remarques, je pourrai m'améliorer
Admin




Messages

: 14058


Lieu

: Calais


Langues

: Français (Langue maternelle), Gb, De, It, Es




---
Permission de ce forum:
Vous
ne pouvez pas
répondre aux sujets dans ce forum