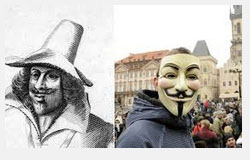 Besides inning
(Outre manche)
, Guy Fawkes is celebrated every November 5 by throwing (lançant) fireworks (feux d'artifice) and burning on pyres (buchers) puppets (pantins) in his likeness (effigie). The most famous member of the "Gunpowder Plot" ("Conspiration des poudres") (1605) is symbolized by a mask whose fame (notoriét ) has since spread beyond (dépassé) the borders to become the symbol of a new planetary revolt.
The mask has been commonplace at protest.
Have you ever seen that video, Florent ?
_________________
Merci de me faire part des grosses fautes dans mes messages en langue étrangère (en Message Privé). Grâce à vos remarques, je pourrai m'améliorer 
Pour n'importe quelle  question
=>muriel.bercez@gmail.com
Pour connaitre le mode d'emploi=>PRESENTATION. 
You Don't speak French              =>Gb,De, Esp, It

MurielB

Admin




Messages

: 15971


Lieu

: Calais


Langues

: Français (Langue maternelle), Gb, De, It, Es



---
Permission de ce forum:
Vous
ne pouvez pas
répondre aux sujets dans ce forum