Since 6 month, I use everyday
Duolingo
on my phone to improve my english. But you can use it to learn other language.
I want to share this little software, very usefull for me. I only make 5 or 10mn a day on my smartphone; it's enough.
This soft exists on  androïd, iphone and inweb version: check at www.duolingo.com
I find out a video clip how explain (in French) the principle:
My pseudo is
Bef10
, if you want to become friend and motivated by comparing our progress. It's pretty cooll for me
(that's why I'm always a dummy in english .... )
Merci, Florent, de nous avoir montré cette vidéo. Bonne chance dans ton travail en anglais.!
J'aurais bien voulu m'inscrire pour l'allemand, mais les francophones doivent attendre...
Le faire à partir de l'anglais ne serait pas simple.
L'idée de la boutique virtuelle est géniale !

Guilaine




Messages

: 1120


Lieu

: Calais


Langues

: Français (Langue maternelle), Gb, De, Es,It



Avec Duolingo, tu peux apprendre l'allemand à partir du français.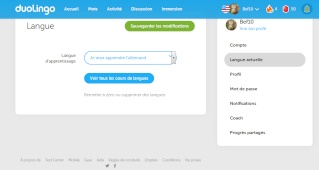 Tu peux même apprendre plusieurs langues en même temps!
Les exercices fonctionnent par modules et les 1ers modules sont super simples, pour qqn qui ne part pas de 0.
Après qq mois où je me suis "tapé" les exos basiques, j'ai découvert qu'on pouvait les shinter en passant un test pour un groupe d'unités.
Ah bon, j.avais lu sur leur site qu.ils n'étaient pas encore prêts pour l'allemand.
Merci du tuyau, je vais m'y intéresser.

Guilaine




Messages

: 1120


Lieu

: Calais


Langues

: Français (Langue maternelle), Gb, De, Es,It



Sujets similaires
---
Permission de ce forum:
Vous
ne pouvez pas
répondre aux sujets dans ce forum