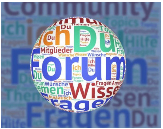 Les sujets intemporels en différentes langues sont ici Ils représentent l'essentiel du forum       
La classification se fait par thèmes qui sont eux-mêmes subdivisés par langues. 
Si vous souhaitez lire d'autres thèmes, veuillez cliquer sur "Rechercher" sous la bannière bleue. Pour trouver facilement ce que vous cherchez ici, il vous suffit de faire 
[Ctrl] + F et d'indiquer ce que vous cherchez... (en haut à gauche) Il apparaît immédiatement. 
Here are the timeless topics
in different languages.(That's the gist of the forum)The classification is made by themes which are themselves subdivided by languages. 
     If you want to read  other topics, please click on "Rechercher" under the blue banner
     To find easily what you are looking for here, just do 
[Ctrl] + F and indicate what you're looking for... (on the top left) It appears immediately. 
=>Human sciences
=>New technologies
Dernière édition par MurielB le Mer 26 Jan - 11:33, édité 255 fois (Raison : O)
_________________
Merci de me faire part des grosses fautes dans mes messages en langue étrangère (en Message Privé). Grâce à vos remarques, je pourrai m'améliorer 
Pour n'importe quelle  question
=>muriel.bercez@gmail.com
Pour connaitre le mode d'emploi=>PRESENTATION. 
You Don't speak French              =>Gb,De, Esp, It

MurielB

Admin




Messages

: 16146


Lieu

: Calais


Langues

: Français (Langue maternelle), Gb, De, It, Es



---
Permission de ce forum:
Vous
ne pouvez pas
répondre aux sujets dans ce forum