Bonjour,
Samedi 18 janvier 2020 aura lieu la première réunion d'un nouveau club : an English Bookclub ou club de littérature anglaise. Toutes les réunions auront lieu le troisième samedi du mois de 10h à 12h à la bibliothèque municipale 16 rue Pont Lottin Calais, qui a la gentillesse de nous accueillir. Nous parlerons en anglais et en français, en fonction du niveau dans chacune des langues des personnes présentes. Venez nous lire un petit extrait d'une oeuvre que vous aimez, nous parler d'un auteur, ou bien écouter les autres en buvant une tasse de thé et mangeant des petits gâteaux (gratuit). Entre autre un ami Bruno LEMAITRE nous parlera de son opinion sur l'oeuvre de Lewis CARROLL Alice aux pays des merveilles / Alice in Wonderland. Dites ce que vous en pensez!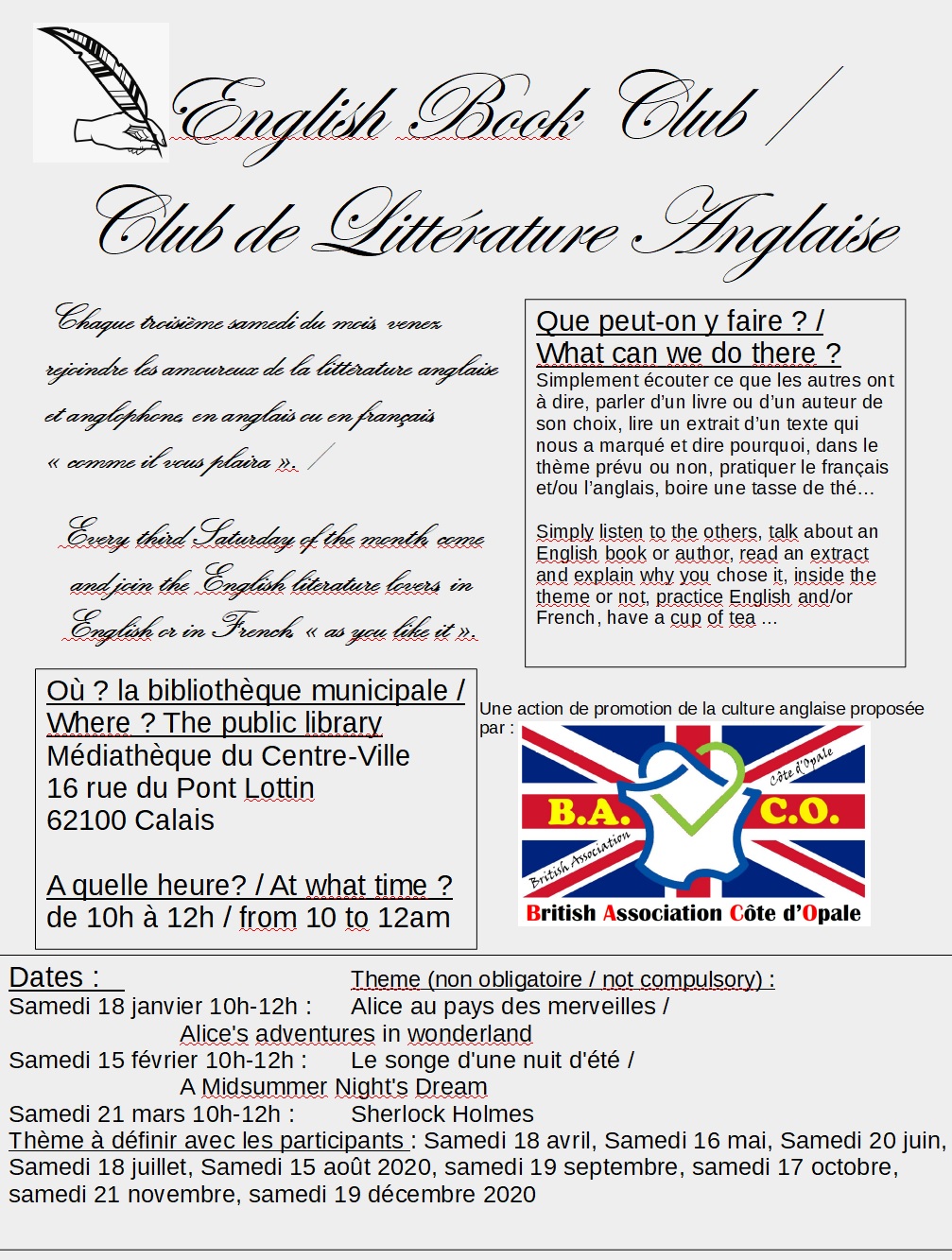 steph




Messages

: 17


Lieu

: Calais


Langues

: français (langue mater) Gb



Bonsoir Stéphanie, bonsoir tous
Bravo pour cette première rencontre que j'ai trouvée fort intéressante. "Alice au pays des merveilles" nous a permis de partager nos différents points de vue et de voir que dans des œuvres aussi riches que celle de Lewis Carroll il y avait énormément de niveaux de réflexion. Merci pour les gâteaux et les boissons qui ont rendu la rencontre festive. Comme convenu avec Stéphanie, ceux qui souhaitent s'exprimer par écrit sur ce livre, peuvent le faire dans cette partie du forum
=>
Livres, books, libros etc
Je vous rappelle l'existence du traducteur
=>

DeepL
qui peut vous aider dans vos traductions bien que le résultat ne soit pas parfait.
Good evening Stephanie, good evening everyone ! 
 Good job for this first meeting which I found very interesting. "Alice in Wonderland" allowed us to share our different points of view and to see that in masterpieces as rich as Lewis Carroll's there were many levels of reflection. Thank you for the cakes and drinks that made the meeting festive. As agreed with Stephanie, those who wish to express themselves in writing about this book, can do so in this part of the forum
=>
Livres, books, libros etc
I remind you the existence of the translator=>
DeepL
which can help you in your translations although the result is not perfect.
=>   English book club 1 Alice's adventures in Wonderland
=>   English Bookclub 2 A Midsummer Night's dream February 15, 2020
=>   English bookclub     3 - Jack London "Call of the wild" July 2020
=>   English Bookclub    4 - Agatha Christie, August 2020
=>   English Bookclub    5 - Jack Kerouac "On the road", September 2020
=>   
English Bookclub    6 - Harry Potter
=>   
English Bookclub    7   April 17, 2021 - "Where's the dragon?" and "Interview with the vampire"
=> 
English Bookclub    8- May 15, 2021 - Sherlock Holmes
=> 
English Bookclub    9 June 19, 2021 - "Wuthering Heights" by E Bronte
=>
English Bookclub   10 July 17, 2021 "The world according to Garp" by J Irving and "Confinement" by K Howells - WITH THE AUTHOR
=> 
English Bookclub   11 August 21, 2021 - "The raven" by EAllan Poe +"Dr Samways writes to the editor" by T Treasure WITH THE AUTHOR
=>   English Bookclub    12  September 18, 2021 - Rudyard Kipling "If" & George Murray "Murrays, Whence and Whither"
=>   English bookclub 13 October 17th In Flanders fields from john McCrae
=>   
English Bookclub - November 13, 2021 "Hours of Idleness" by Lord Byron
=>   
English book club December 18th "A Christmas Carol" Charles Dickens
=>   
English Book Club du samedi 19 février
2022=>   English Bookclub march 19th"Animal farm"=>   Charlie and the chocolate Factory
_________________
Merci de me faire part des grosses fautes dans mes messages en langue étrangère (en Message Privé). Grâce à vos remarques, je pourrai m'améliorer 
Pour n'importe quelle  question
=>muriel.bercez@gmail.com
Pour connaitre le mode d'emploi=>PRESENTATION. 
You Don't speak French              =>Gb,De, Esp, It

MurielB

Admin




Messages

: 16702


Lieu

: Calais


Langues

: Français (Langue maternelle), Gb, De, It, Es



---
Permission de ce forum:
Vous
ne pouvez pas
répondre aux sujets dans ce forum