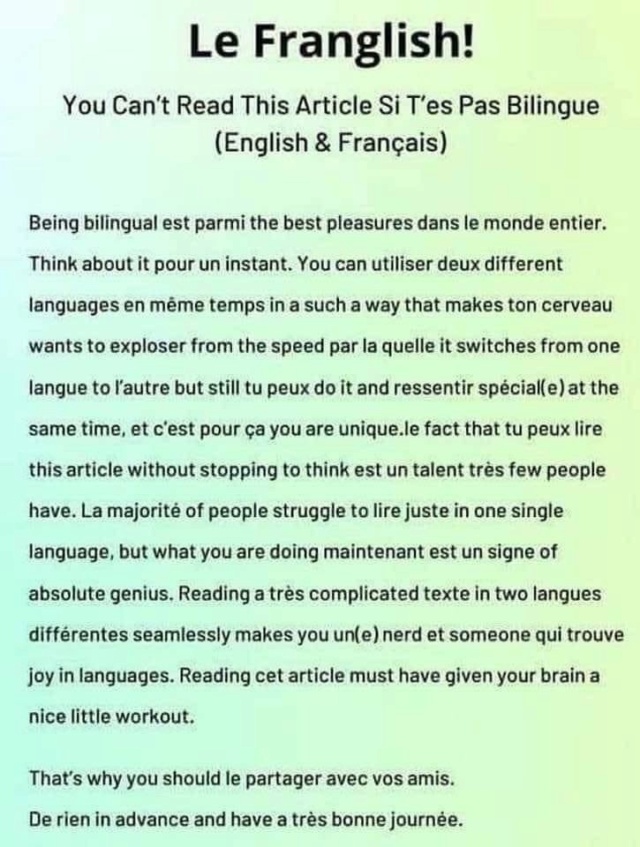 _________________
Merci de me faire part des grosses fautes dans mes messages en langue étrangère (en Message Privé). Grâce à vos remarques, je pourrai m'améliorer 
Pour n'importe quelle  question
=>muriel.bercez@gmail.com
Pour connaitre le mode d'emploi=>PRESENTATION. 
You Don't speak French              =>Gb,De, Esp, It

MurielB

Admin




Messages

: 15970


Lieu

: Calais


Langues

: Français (Langue maternelle), Gb, De, It, Es



I already saw this text a while ago. It is very fun to read, though I don't think it comes from "absolute genius". (It's still debatable considering the amount of definition the word "genius" has).

I found this article about how our brain processes switching languages.

It is very interesting, I now understand a little bit better why after a few hours of only English speaking/listening my brain would find it hard to switch, or still wants to say English words despite speaking in French. It is probably because my brain didn't "turn off" the other language completely since it got used to only speak in one for the past hours. The same happens when I speak French for a whole day and I then have to speak only in English, I find it harder to get the right English words because the first ones that come to mind are French.

Zoey




Messages

: 30


Lieu

: Bordeaux


Langues

: Français(L. mater), English, Deutsch, Chinese, Russian, Swedish



Tx for your words Zoey It is true that although it can be difficult at times, language learning is excellent for the brain.
Thomas Bak a écrit: young adults proficient in two languages performed better on attention tests and had better concentration than those who spoke only one language.
_________________
Merci de me faire part des grosses fautes dans mes messages en langue étrangère (en Message Privé). Grâce à vos remarques, je pourrai m'améliorer 
Pour n'importe quelle  question
=>muriel.bercez@gmail.com
Pour connaitre le mode d'emploi=>PRESENTATION. 
You Don't speak French              =>Gb,De, Esp, It

MurielB

Admin




Messages

: 15970


Lieu

: Calais


Langues

: Français (Langue maternelle), Gb, De, It, Es



---
Permission de ce forum:
Vous
ne pouvez pas
répondre aux sujets dans ce forum