Hi there.
Another teaching organization on Facebook: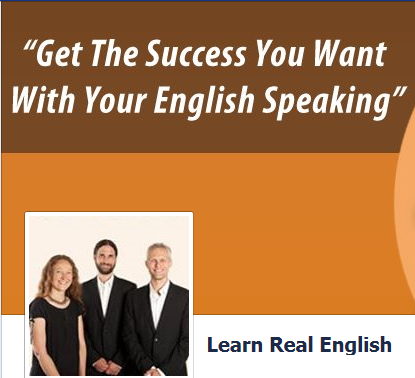 Learn Real English
(click pic or link to access Facebook)
One of my favorite pictures of the Learn Real English Team! From the left: Kristin Dodds, Joe Weiss, and A.J. Hoge We love teaching you-- the best community in the world! We love you because you are so positive!
Facebook is a visible location.
Behind the FB page, there's a website
À propos
Learn Real English teaches English to speakers of other languages. The lessons are based on authentic conversations between native English speakers. For more information: http://learnrealenglish.com/7-steps-to-powerful-english-conversation

Mission
Teach people to speak English confidently.

Description de l'entreprise
Learn Real English was created by Kristin Dodds, Joe Weiss, and A.J. Hoge to help people learn real English conversations (with native speakers).

Infos de base
Inscription sur Facebook 02/09/2009
Produits Learn Real English Lessons are available at: http://LearnRealEnglish.com/

Coordonnées
Site web http://LearnRealEnglish.com
_________________
Please feel free to point out big mistakes in my messages in a foreign language. Thanks to your remarks, I'll be able to improve my level.
PS: Pls note that I chose American English for my vocabulary, grammar, spelling, culture, etc.  
---
Permission de ce forum:
Vous
ne pouvez pas
répondre aux sujets dans ce forum