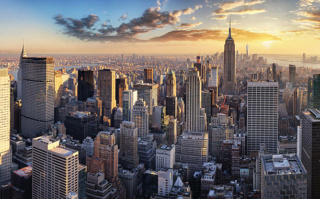 NEW YORK — For 10 straight years leading up to the coronavirus pandemic, a torrent of tourists from around the world poured into New York City, with their numbers rising to a record level in 2019.
They crowded sidewalks, jammed museums, packed theaters and delighted merchants, spending billions of dollars that created hundreds of thousands of tourism-related jobs and fueled an economic boom.
Then they were gone.
When the city went into lockdown in March 2020, all that tourist trade — the vacationers, business travelers, day-trippers and honeymooners — disappeared.
Now, New York needs those tourists and their disposable income back, if it is to fully recover.
Before the pandemic, tourism accounted for more than 280,000 jobs — more than 7% of all private-sector employment — and generated $46 billion in annual spending, officials said. But last year, nearly 90,000 of those jobs and $35 billion of that spending evaporated, according to a report from the state comptroller.
Mayor Bill de Blasio and Gov. Andrew Cuomo have announced dates for the rollback of most coronavirus restrictions, setting the stage for a full reopening of the city starting in mid-May.
New York is reawakening. It just needs its tourists back. - NewsBreak
Hi everyone. 
I have been to New York three times. My eldest daughter did an internship there during her studies before 2001 and I remember perfectly the dizzying rise by lift to the top of the twin towers. I had a breathtaking view of the city. Unfortunately they are gone now; I always thought that it was a city that moved 24 hours a day. On my second visit, I went to the now closed immigration office "Ellis island". All those migrants fleeing war or misery found in this city the refuge of their dreams. The energy that sustained them is still present after all these years. I enjoyed the museums,(MET, MOMA, the street art) which filled me with bliss. As my younger daughter lived there during 5 years I had the opportunity to spend another week there and attended a Gospel in Harlem and I remember the anguish I experienced while walking through black neighbourhoods because I felt too different from others. 
I love New york which has so many things to offer and I am sure the tourists will be back soon.
_________________
Merci de me faire part des grosses fautes dans mes messages en langue étrangère (en Message Privé). Grâce à vos remarques, je pourrai m'améliorer 
Pour n'importe quelle  question
=>muriel.bercez@gmail.com
Pour connaitre le mode d'emploi=>PRESENTATION. 
You Don't speak French              =>Gb,De, Esp, It

MurielB

Admin




Messages

: 16715


Lieu

: Calais


Langues

: Français (Langue maternelle), Gb, De, It, Es



---
Permission de ce forum:
Vous
ne pouvez pas
répondre aux sujets dans ce forum