Bonjour à tous,
I've spent some time today studying my recently installed water and heating counters, and future expenses.
My daily water usage seems to be around 146 litres, and I had no idea if that was high or reasonable for one person.
I found some interesting statistics on a water web site ...
DAILY WATER CONSUMPTION : LITRES per PERSON
USA : 382
CANADA : 343
ITALY : 250
SWEDEN : 200
FRANCE : 150
ISRAEL : 135

So, the question is ...
Are Americans extra clean, or are Europeans just extra dirty ???
Or are Americans just completely oblivious to environmental conservation ?
Hy Krystyna,
I have to show you how to post pictures.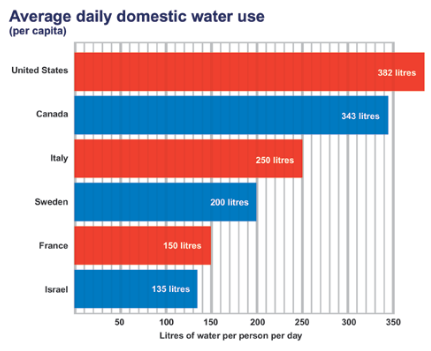 The French are famous: dirty!
I'm surprised Italy is 66.7% over France.
_________________
Please feel free to point out big mistakes in my messages in a foreign language. Thanks to your remarks, I'll be able to improve my level.
PS: Pls note that I chose American English for my vocabulary, grammar, spelling, culture, etc.  
---
Permission de ce forum:
Vous
ne pouvez pas
répondre aux sujets dans ce forum