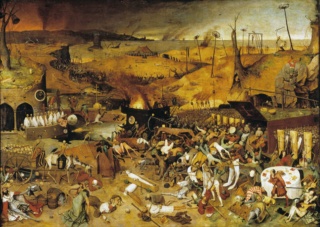 https://www.google.fr/amp/s/www.nytimes.com/2021/10/12/health/when-will-covid-end.amp.html
The skeletons move across a barren landscape toward the few helpless and terrified people still living. The scene, imagined in a mid-16th-century painting, "The Triumph of Death" by Pieter Bruegel the Elder, illuminated the psychic impact of the bubonic plague.

It was a terror that lingered even as the disease receded, historians say.

Covid-19's waves of destruction have inflicted their own kind of despair on humanity in the 21st century, leaving many to wonder when the pandemic will end.

"We tend to think of pandemics and epidemics as episodic," said Allan Brandt, a historian of science and medicine at Harvard University. "But we are living in the Covid-19 era, not the Covid-19 crisis. There will be a lot of changes that are substantial and persistent. We won't look back and say, 'That was a terrible time, but it's over.' We will be dealing with many of the ramifications of Covid-19 for decades, for decades."

Especially in the months before the Delta variant became dominant, the pandemic seemed like it should be nearly over.

MiKouteB




Messages

: 139


Lieu

: Calais


Langues

: Français (Langue maternelle), Gb, De, It, Es ch



Everyone felt that the world would no longer be the same after the Covid pandemic. But how to define this famous "world after"?

_________________
Merci de me faire part des grosses fautes dans mes messages en langue étrangère (en Message Privé). Grâce à vos remarques, je pourrai m'améliorer 
Pour n'importe quelle  question
=>muriel.bercez@gmail.com
Pour connaitre le mode d'emploi=>PRESENTATION. 
You Don't speak French              =>Gb,De, Esp, It

MurielB

Admin




Messages

: 16581


Lieu

: Calais


Langues

: Français (Langue maternelle), Gb, De, It, Es



Sujets similaires
---
Permission de ce forum:
Vous
ne pouvez pas
répondre aux sujets dans ce forum