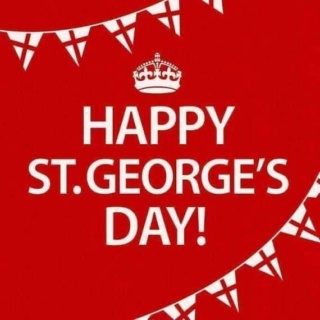 Wiki a écrit: Saint George's Day, also called the Feast of Saint George, is the feast day of Saint George as celebrated by various Christian Churches and by the several nations, old kingdoms, regions, states, countries and cities of which Saint George is the patron saint - including Bulgaria, England, Georgia, Portugal, Romania as well as the Spanish communities of Cáceres, Alcoy, Aragon and Catalonia. The saint also has his state holiday in Rio de Janeiro, Brazil.[1]


St. George is honoured every 23 April in England.
He is the patron saint. But it is not a bank holiday
Wiki a écrit: The legend of Saint George and the Dragon tells of Saint George (died 303) taming and slaying a dragon that demanded human sacrifices. The story goes that the dragon originally extorted tribute from villagers. When they ran out of livestock and trinkets for the dragon, they started giving up a human tribute once a year. This was acceptable to the villagers until a well-loved princess was chosen as the next offering. The saint thereupon rescues the princess chosen as the next offering. The narrative was first set in Cappadocia in the earliest sources of the 11th and 12th centuries, but transferred to Libya in the 13th-century Golden Legend.[1]



MiKouteB




Messages

: 139


Lieu

: Calais


Langues

: Français (Langue maternelle), Gb, De, It, Es ch



---
Permission de ce forum:
Vous
ne pouvez pas
répondre aux sujets dans ce forum